Killing with compliments; Parents praise sets children up for failure
This was an interesting read that Z forwarded to me. If you choose to read it, do so now. The rest of the post may not make sense if you do not. You've been warned.
I thought the article rang true, particularly to me. My father always emphasized intelligence to me. They often spoke of me being smart and becoming a doctor when I grew up. I guess that's the same with most asian parents. But I believe I was coddled. Don't get me wrong, I was smart. But just not that smart. I remember as early as Grade 2, when we did "Math Minute": as many math questions as you can answer in a minute. Accuracy mattered. We did it every day for the school year. Tracked the scores. I won (best speed AND accuracy in the entire class). *BAM* TAKE THAT OTHER 25 KIDS IN GRADE 2. Grade 4: Teaching kids to divide. The teacher was explaining division to us, and I put my hand up, went infront of the class and explained how it worked. What a keener. Lucky there was no Nelson or Jimbo in my Grade 4 or I would've gotten the snot kicked out of me. Yes, I guess I was Martin *shudder* >_<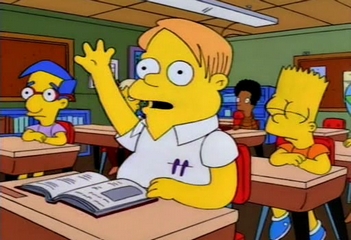 ANYWAYS, enough of my embarrassing elementary school. And highschool where I also did well in Finite, Algebra & Geometry…(tho did bad in Calculus >_<) Basically, I always thought I was smart. But being smart isn't enough. You have to be hard working. And I think my false sense of smartness security had a negative impact to my work ethic. And as I realized in University, those that weren't as smart as me, that worked harder than me, did better than me (surprise, surprise). I think the biggest detriment in my life was the poor work ethic at a young age. I'm partly to blame for that, but the self-awareness and realization of such a thing would not come to me until I was much older. "You don't know what you don't know". Sometimes you need to be TOLD it. I'm not blaming anyone, other than me, I'm just stating the fact.
.
.
.
I actually already have a list (in my GMAIL drafts) on what to teach my kids. What to tell them, what not to tell them. I want to help them as much as possible. My parents were there for me. But they were poor with guidance. At worst, they influenced my life negatively, despite their best efforts to help positively. But unfortunately, the results were the same.
I don't want to make that mistake. After I have kids, every day is a day to adjust yourself as a parent, and as a teacher. I will not fail my children. I will teach them everything I can. Guide them. They can make mistakes, but I don't want them to grow up on the wrong path. If they're trouble at 5 years, it's too late. I've done something wrong and need to adjust. Show them the carrot or hit them with the stick, I don't know. But I have to figure THEM out, figure out how THEY respond to criticism, learning, and follow that. Giving them the carrot when they'd learn better with the stick is not correct. All children and people respond differently. They're too young to figure it out. You have to figure them out first to achieve the best response.
I will try my best to listen and respond accordingly to a child. Take them to hockey. Take them to soccer. Take them to lego camp (if there is such a thing). Take them to math school. Take them to piano. And then let them figure out what they want to do. If they practice piano – figure out what music they WANT to play, and dedicated 10-30% of their training to learning something fun, for themselves. That's how Google does it to achieve the best results. That's how I wish I did it. Piano would have been much more fun if I had been playing music I liked. I can't change or force my interests on them. But I can support and nourish their interests once they figure out what they are.
I had a discussion with my parents on how I quit Chinese school to go to Math school. And as much as I wish I knew Chinese now, I don't know where I'd be if I learned that. Chinese did not come easily to me and I struggled with it, both in interest, and in learning. In contrast, math was easy and I was good at it…and that skill helped my entire life – from highschool to university to now. If I were to go back in time and choose my path again, I would again choose math. Not because of where my life is now, but because I was naturally good at it. Better to excel at something than to struggle with a skill and end up being mediocre at best at it. That might as well be useless.
But to counter argue the other point, perhaps quitting something difficult (chinese) and learning something easy (math) was incorrect. Maybe it taught me to take the easy route and/or maybe I never experienced the self-satisfaction or self-confidence I would have gained after learning and achieving something difficult. Who knows.
No conclusion. Left to ponder…
/done blogging for tonight. Time for photography.